Letters Laro
15 May 2005
Mike,
Good to hear from you comrade. Do you realize I received one letter per day this week from you? Interesting, yes?
I have the two copies of the letters you sent to the warden and a copy of the letter you sent to McCain. I am very appreciative of your efforts. That is the kind of committment that got me interested in Copwatch in the first place. Your desire to get to the bottom of bureaucratic incompetence and to expose authoritarian malfeasance is a credit to your dedication to the cause of social justice. I also admire the fact that you don't back down to their intimidation.
It's funny you mentioned phone calls. Phone calls are strictly controlled under the guise of "security." All calls are recorded and monitored. The side that most people don't know about is how the institution contracts out to a proprietary phone service that needs not be competetive nor accountable to the inmates. I think this results in a very high profit motive and cushy contract for whichever phone service gets the contract. There may even be kickbacks to government bureaucrats who work with these contracts, thus fleecing the inmates and their families even further. We can only make phone calls of 15 minutes duration. My cost to phone Phoenix is 22.666 cents a minute.
The real revenue generator for each facility is its store (commissary). I'll enclose a list, so you can see the types of prices they enclose in this list.
Mike, send me the release form, and I will sign it and have it notarized. When you receive the information, keep in mind the staggering amount of exaggeration and accusation leveled against me balanced against the fact that a large portion of those lies were refuted, but the government never retracted its accusations. No drugs or drug paraphernalia, no explosive devices, no drug deals over the phone, none of that was supported by the facts!
Mike, I really appreciate the support you are providing me through your encouragement and updates. Tell Kevin I send him my best regards and hope he will be free soon. How is Copwatch doing? Fuck Arpaio!
From one veteran to another,
Peace my friend,
Laro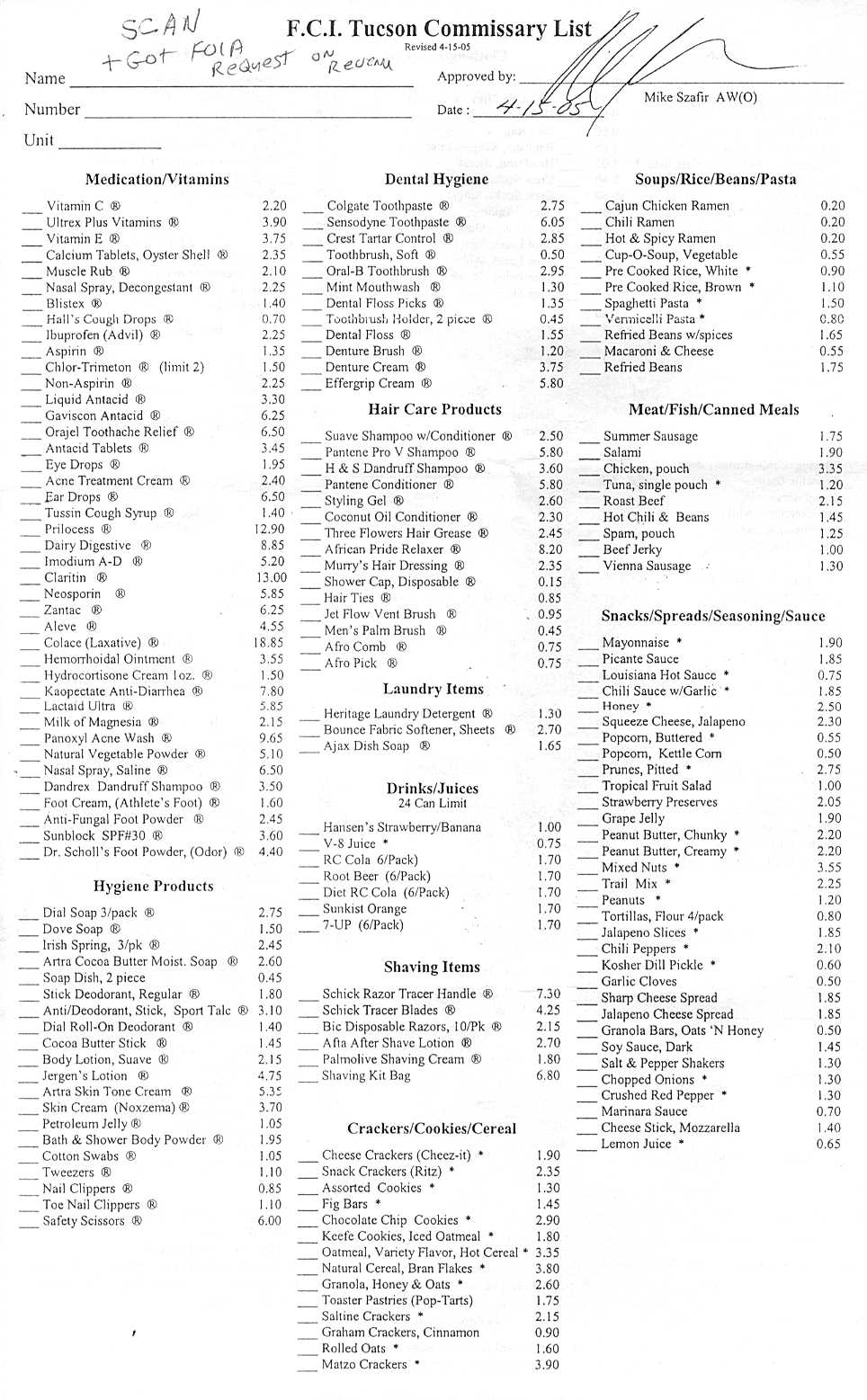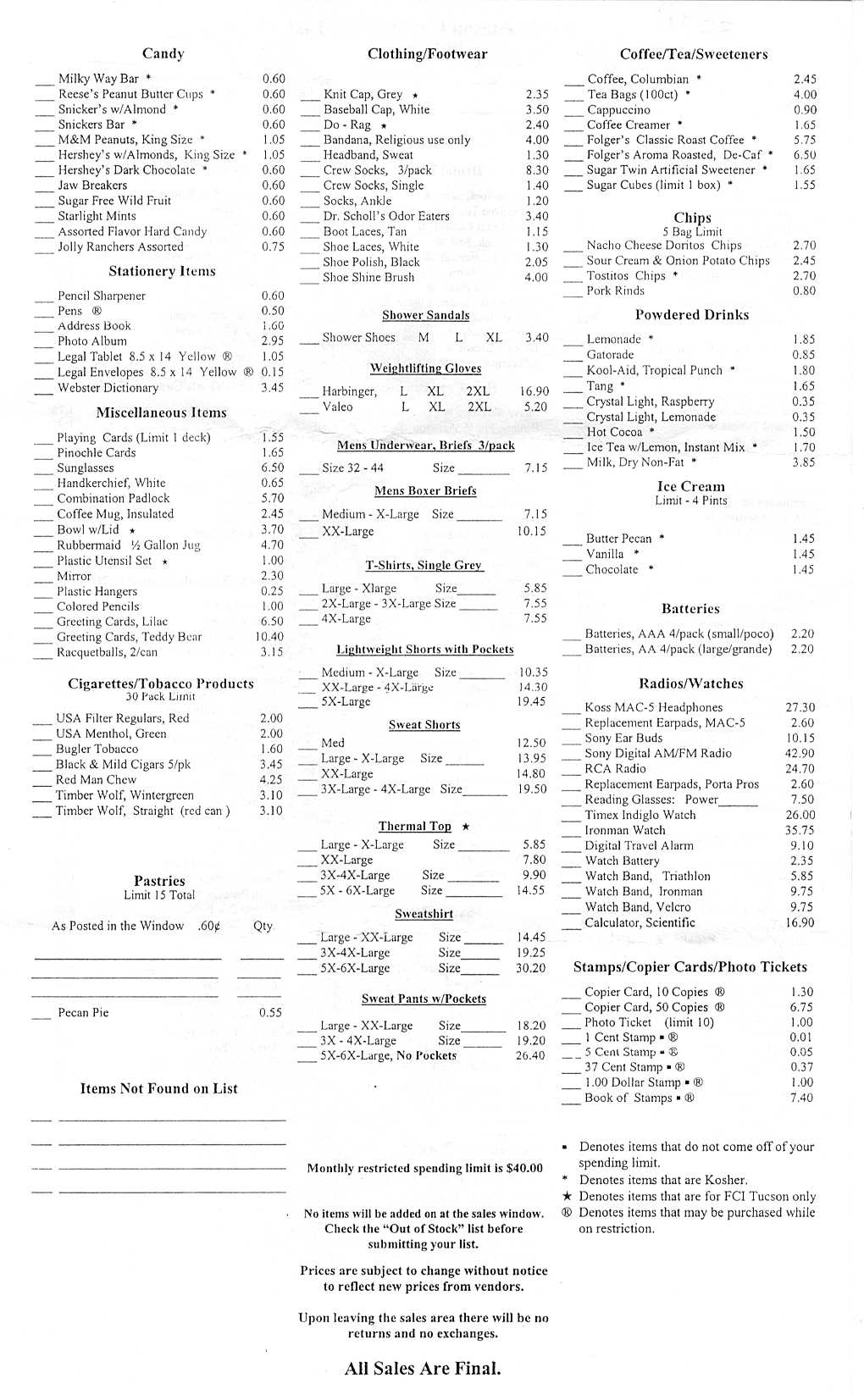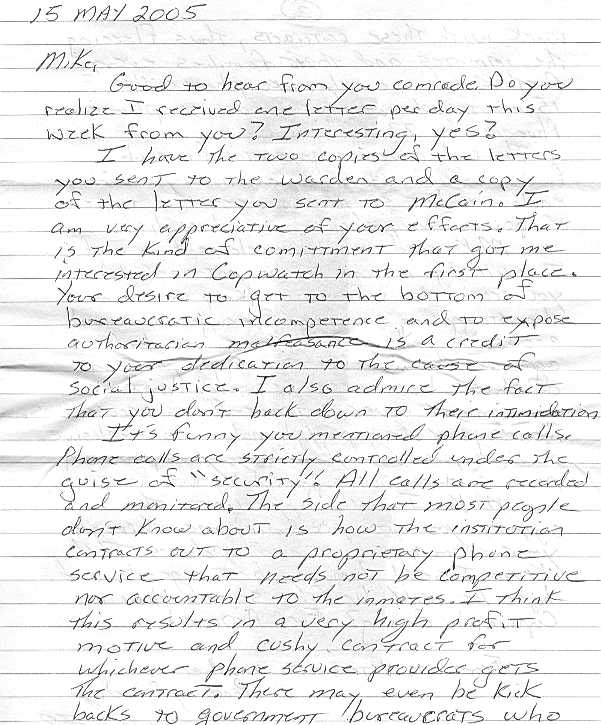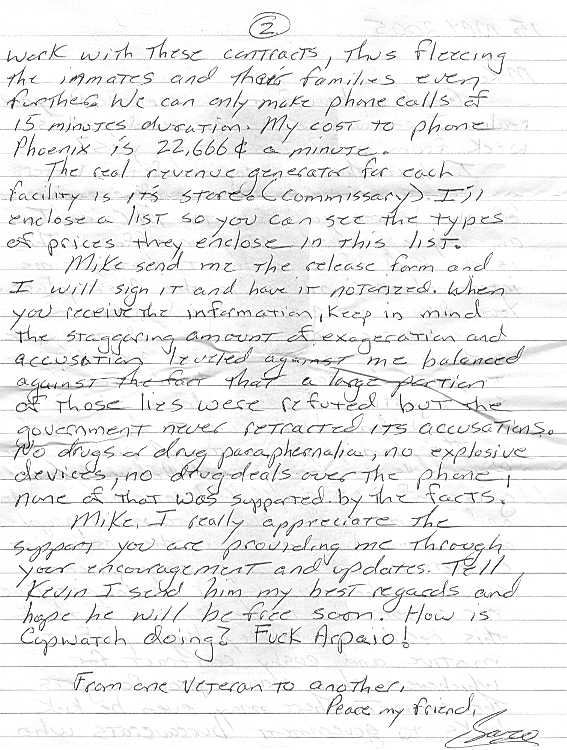 Back to Laro Nicol's Letters
---
Free Kevin Walsh